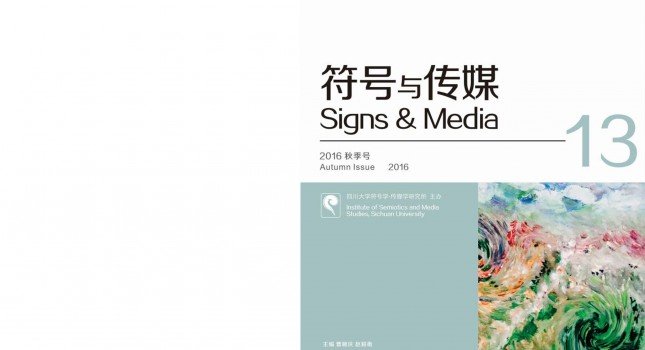 Signs & Media (Autumn Issue, 2016).
New Issue of Signs & Media (Autumn Issue, 2016)
We are glad to announce the publication of the new issue of Signs & Media, a bilingual (English-Chinese), peer-reviewed semiotic journal. Please feel free to download the PDF Version of Signs & Media:  http://www.semiotics.net.cn/isms
Editor's Note (Autumn Issue of Signs & Media, 2016)
In the previous 12 issues of Signs & Media, our contributors and readers have been participating in conversations between semiotics and other disciplines. It is this persistent curiosity about different subjects and the constant exploration of possible theoretical dialogues that have contributed to the development of contemporary semiotics.
Tracing the trajectory of semiotics, this issue of Signs & Media launches a new section, "Marxist Semiotics". The contributors to this section examine the convergence of Marxism and semiotics, either by reviewing Marxist semiotics, or by applying a semiotic perspective to some classic topics of Marxism, such as the relationship between commodity value and ideology. As Tang Xiaolin claims in Toward Today's Marxist Semiotics:An Introduction, "It is of great significance to propel the linguistic and semiotic turn of Marxism on the basis of its stance and methodology. And this is one of the most important approaches to the new aspect of semiotics." In this case, the criticisms of the social economy and culture found in Marxism inspire contemporary semiotics and widen its areas of research.
Semiotics is not only interested in the relations between economic foundations and social relations, it also focuses on the abundant spiritual production of the arts. In the section "Semiotics of Art", our contributors analyse various artistic forms, for example, film, Chinese landscape painting, dancing, novels, etc. In addition, our readers will find a discussion of the transitions of poetic discourse in a pictorial era. It is necessary to verify and enhance the interpretive power of semiotics in the arts, as the latter challenges existing interpretative systems.
Signs & Media maintains a long-standing focus on the semiotics of communication, because communication phenomenon – in history and in our social life – promote the theoretical development of semiotics. In the section "Semiotics of Communication", two classic topics of communication, information and noise, are reinterpreted from the perspective of peircean semiotics. In addition, the relations between commodity and brand, and between image and facts, are used to elaborate our understanding of the dimension of meaning.
The three sections of this issue demonstrate that theory and its applications mutually benefit and promote each other. Nowadays, new thoughts and events are being represented in novel modes; in response, we shall never stop exploring, contemplating and criticising. For this reason, Signs & Media continues to be a platform for our contributors and readers to record the further splendour of semiotics.
About Sings & Media
Signs & Media is a bilingual (English-Chinese), peer-reviewed semiotic journal, founded in 2008 by the Institute of Semiotics & Media Studies (ISMS), Sichuan University. Signs & Media, dedicating itself to the interdisciplinary research on semiotics and media studies, has since published more than 200 professional papers by scholars from all around the world.
Under the editorship of Professor Henry Yiheng Zhao, Signs & Media endeavors to systematically expand semiotics to all fields of human sciences, covering, notably, , communication and media studies, cultural studies, art and literature, as well as narratology, stylistics, discourse analysis, cognitive science in the semiotic perspective, and, in particular, reinterpretations of Chinese traditional semiotic heritage.
Signs & Media welcomes contributions on any topics, so long as they, in a way, help illuminate the theoretical foundation and widen the sphere of applicability of semiotics.
Email address: semiotics_media@163.com
Phone: +86-28-8541-2121
Fax: +86-28-8541-2710
Website: www.semiotics.net.cn/isms
Postal Address: Institute of Semiotics & Media Studies,
Sichuan University,
No.29 Wanjiang Road,
Chengdu, 610064
China