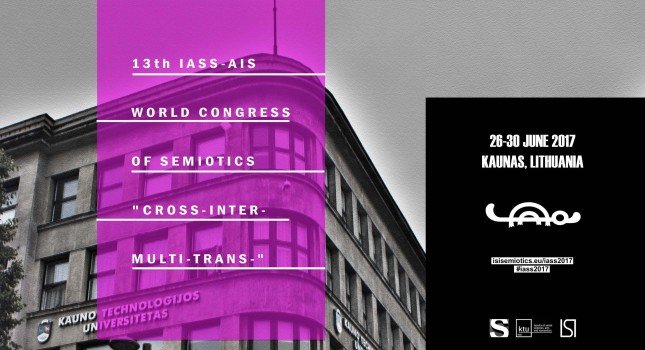 13th World Congress of Semiotics IASS
Dear colleagues / Chères et chers collègues / Queridas y queridos colegas / Liebe Kolleginnen und Kollegen
EN
This is the call for papers for the 13th World Congress of Semiotics, to be held on June 26-30, 2017 at the International Semiotics Institute of Kaunas University of Technology, Lithuania.
The congress will take place in the premises of the Faculty of Social Sciences, Arts and Humanities of the aforementioned university, in A. Mickevičiaus Street 37, Kaunas.
See you in Kaunas!
Paul Cobley, Kristian Bankov – International Association for Semiotic Studies (
http://iass-ais.org/
)
FR
Ceci est un appel à communications, pour le 13e Congrès mondial de Sémiotique, qui aura lieu du 26 au 30 juin 2017 à l'Institut international de Sémiotique de Kaunas de l'Université technologique en Lituanie.
Le congrès aura lieu à La faculté des sciences sociales et humaines et des arts, de l'Université cité au-dessus, à A. Mickevičiaus rue 37, Kaunas.
Rendez-vous à Kaunas !
ES
Se convoca a la participación en el 13º Congreso mundial de Semiótica, que se va a celebrar del 26 al 30 de Junio de 2017 en el Instituto Internacional de Semiótica de la Universidad tecnológica de Kaunas, en Lituania.
El congreso va a tener lugar en la Facultad de Ciencias sociales, Arte y Humanidades de dicha universidad, en la calle A. Mickevičiaus 37, Kaunas.
Nos vemos en Kaunas!
Paul Cobley, Kristian Bankov – Asociación Internacional para Estudios Semióticos (
http://iass-ais.org/
)
DE
Dies ist der Aufruf für das Einreichen von Beiträgen für den 13. Weltkongress der Semiotik, der vom 26. bis 30. Juni 2017 am Internationalen Institut für Semiotik der Technischen Universität Kaunas, Litauen, stattfindet.
Der Kongress findet in den Räumlichkeiten der Fakultät der Sozialwissenschaften, Kunst und Geisteswissenschaften der Technischen Universität in der A. Mickevičiaus Straße 37, Kaunas, statt.
Bis bald in Kaunas!