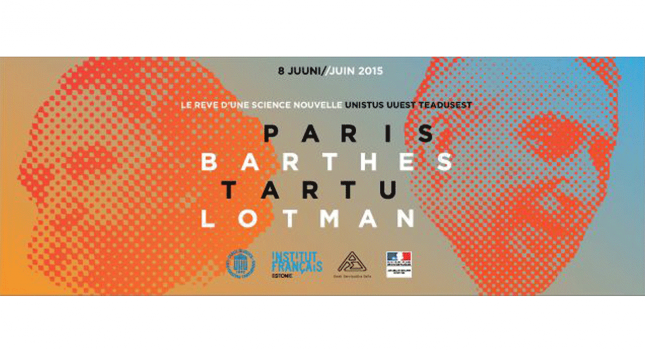 Announcement of conference «Paris/Tartu – Barthes/Lotman», June 8, 2015. Le reve du science nouvelle
2015 aurait été l'année du centenaire de Roland Barthes, grande figure de la sémiologie en France. A cette occasion, l'Institut français d'Estonie et le département de sémiotique de l'Université de Tartu s'associent pour créer une sorte de dialogue post-mortem entre deux figures emblématiques de la sémiologie en France et en Estonie : Roland Barthes et Yuri Lotman.
Ces deux sémioticiens ont marqué les années 60 et 70 par leur rêve d'une science nouvelle accompagnée de l'idée de culture comme système multilingue et multicode.
Thème de la conférence:
L'histoire conceptuelle de la sémiologie est généralement associée à Charles S. Peirce et Ferdinand de Saussure et aux concepts de sémiotique et de sémiologie. Mais la sémiologie contemporaine est née dans les années 1960 et son développement est principalement marqué par les recherches méthodologiques de Roland Barthes et de Youri Lotman. La sémiologie de Barthes et la sémiotique de Lotman ont donné naissance au rêve d'une nouvelle science humaine accompagnée de l'idée de culture comme système multilingue et multicode. L'année 1968 constitua un tournant important : Lotman a créé l'institut de sémiotique de Tartu tandis que cette année-là, Barthes s'est davantage orienté vers la pensée critique, au lieu de créer une nouvelle science. Lotman s'est concentré sur l'analyse théorique des langues culturelles et, en 1973, il a publié les thèses de la sémiotique culturelle qui fondent la sémiotique culturelle d'aujourd'hui. Barthes s'est concentré sur la pensée critique et s'est basé sur un lien intime entre la société, la culture et le chercheur. Ce lien est souligné par le concept d'intertexte que Barthes formule dans son livre de 1973, Le plaisir du texte. Le centenaire de Roland Barthes en 2015 est l'occasion de rappeler l'influence prépondérante qu'a eu ce dernier sur le développement de la sémiotique en général et pas seulement sur la sémiologie française. Roland Barthes a facilité la création de synergies qui ont rassemblé les différents centres de sémiotique, ont ouvert le dialogue entre Paris et Tartu et qui actuellement posent les fondements d'une nouvelle synthèse de la sémiotique et les sciences de culture. Cette synthèse des connaissances est basée sur un dialogue conceptuel entre Barthes et Lotman, entre Paris et Tartu.
Intervenants:
Pieluigi Basso
Anne Beyaert-Geslin
Daniele Monticelli
Patrick Sériot
Marek Tamm
Peeter Torop
Venez assister à la conférence « Paris/Tartu – Barthes/Lotman »
le lundi 8 juin 2015 à partir de 09h30
dans la salle de conférence de la bibliothèque de l'Université de Tartu.
Langue : en français et en estonien avec traduction simultanée dans les deux langues
Facebook: https://www.facebook.com/events/855840217795611/
Inscrivez-vous ici : http://goo.gl/forms/UxsdfKTbvp
2015 marks the 100th birthday of the famous French semiotician Roland Barthes. Roland Barthes and Estonian semiotician Yuri Lotman influenced greatly the intellectual world views of the 1960s and 1970s. To commemorate the works and ideas of the two semioticians, the conference «Paris/Tartu – Barthes/Lotman» will be held in Tartu, Estonia. The conference will be organized by The French Institute in Estonia in cooperation with the Department of Semiotics, University of Tartu.
The conference will be held on Monday, June 8, 2015, starting at 9.30 at the conference venue of the library of the University of Tartu.
Speakers include:
Pieluigi Basso
Anne Beyaert-Geslin
Daniele Monticelli
Patrick Sériot
Marek Tamm
Peeter Torop
Facebook: https://www.facebook.com/events/855840217795611/
Sign up here: http://goo.gl/forms/UxsdfKTbvp