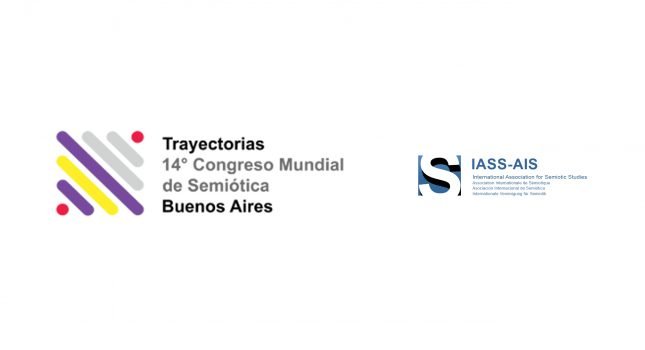 14° Congreso Mundial de Semiótica – 3rd announcement – Organization and Format of Presentations
ES | EN | FR | DE | PT
14° Congreso Mundial de Semiótica
de la International Association of Semiotics Studies /
Association Internationale de Sémiotique -IASS/AIS-
organizado por la Asociación Argentina de Semiótica -AAS-
y la Universidad Nacional de las Artes -UNA-
Buenos Aires, 9-13 septiembre 2019
3ra Comunicación – Organización y Formato de las Ponencias
Ampliamos la información sobre organización de las mesas, fechas, aranceles y conformación del Comité Científico del 14° Congreso Mundial de Semiótica de la Asociación Internacional de Semiótica – IASS/AIS, a celebrarse del 9 al 13 de septiembre de 2019 en la Ciudad Autónoma de Buenos Aires, Argentina.
Organización y Formato de las Ponencias
Las ponencias tendrán una duración de 20 minutos y se reservarán 10 minutos por ponencia para preguntas y comentarios (intercalado o al final de la serie de exposiciones). Cada mesa tendrá una hora y media de duración e incluirá hasta tres ponencias.
La conformación de las mesas será definida por el Comité Científico y el Comité Organizador a partir de los ejes propuestos. Todas las mesas reunirán exposiciones con un criterio de afinidad temática y, siempre que sea posible, se buscará programar sucesivamente las mesas que compartan una temática o un campo de interés común,  para generar una sucesión de exposiciones y articular los debates en una misma jornada y espacio físico.
Se solicita a los ponentes el acompañamiento de la exposición oral con una presentación visual en un idioma diferente del utilizado por el expositor, a elegir entre español o inglés.
Cada día habrá dos turnos de exposiciones semiplenarias de una hora de exposición con dos expositores invitados en cada uno, con hasta cuatro mesas simultáneas.
El formato definido para las mesas y semiplenarios busca aprovechar el carácter internacional del congreso para favorecer el encuentro y estimular el diálogo entre expositores de diferentes países en función de problemáticas o abordajes comunes. Entendemos que este formato permitirá visibilizar la producción de las diferentes cátedras y equipos de investigación e incentivar redes de contacto, proyectos y publicaciones de alcance internacional. La principal meta del 14° Congreso Mundial de Semiótica es la construcción de un espacio de encuentro e intercambio entre los investigadores y especialistas en la disciplina.
A los que deseen compartir la mesa con otros investigadores bajo un subtema específico, se les solicita que informen dicha propuesta en la presentación de cada abstract. La propuesta será atendida por el Comité Organizador. En esos casos, se identificará la mesa con ese subtema en el programa.
A quienes deseen plantear presentaciones o lanzamientos de publicaciones, se les solicita que presenten dicha iniciativa a la dirección electrónica del Congreso del 30 de marzo al 30 de abril.
Otras informaciones de interés
14th World Congress of Semiotics
of the International Association of Semiotics Studies /
Association Internationale de Sémiotique -IASS/AIS-
organized by the Argentine Association of Semiotics Studies and the National University of Arts
Buenos Aires, 9-13 september 2019
3rd announcement – Organization and Format of Presentations
We provide more information on the organization of the round tables, deadlines, fees and composition of the Scientific Committee of the 14th World Congress of Semiotics of the International Association of Semiotic Studies – IASS/AIS, to be held on September 9-13, in Buenos Aires, Argentina.
Organization and Format of Presentations
The presentations will last 20 minutes and 10 minutes will be reserved per presentation for questions and comments (alternated or at the end of the series of presentations). Each session will last an hour and a half and it will include up to three presentations.
The composition of the sessions will be defined by the Scientific Committee and by the Organizing Committee based on the proposed themes. All the sessions will gather presentations with a criterion of thematic affinity, and whenever possible, we will try to schedule in sequence the sessions that share a theme or field of common interest, in order to generate a series of presentations and to organize the debates on the same day and in the same room.
Speakers are asked to complement the oral presentation with a visual presentation in a different language from the one used by the speaker; it can be either Spanish or English.
Each day there will be two periods of semi-plenary presentations of one hour with two invited keynote speakers in each one, and there will be up to four simultaneous sessions.
The format that was chosen for the sessions and semi-plenary presentations aims at profiting from the international nature of the congress to favor the meeting and promote the dialogue between participants of different countries based on the common issues dealt with or the common approaches. We consider that this format will make it possible to show the production of the different university chairs and research teams as well as promote contact among networks, projects and publications of international scope. The main goal of the 14th World Congress of Semiotic is the construction of a place for the encounter  and exchange among researchers and specialists in the field.
Those who wish to share the round table with other researchers under a specific subtopic, are asked to let us know about this proposal together with the submission of each abstract. The proposal will be considered by the Organizing Committee. In those cases, the round table will be categorized with that subtopic in the program.
Those who wish to present presentations or launch publication are asked to send  them to the email address of the Congress from March 30 to April 30.
Other information of interest
14ème Congrès Mondial de Sémiotique
de l'International Association of Semiotics Studies/
Association Internationale de Sémiotique -IASS/AIS-
organisé par l'Association Argentine de Sémiotique -AAS-
et l'Université Nationale des Arts -UNA-
Buenos Aires, 9-13 septembre 2019
3ème Communication – Organisation et Format des Présentations
Nous fournissons davantage de l'information sur l'organisation des tables rondes, dates, frais d'inscription et composition du Comité Scientifique du 14ème Congrès Mondial de Sémiotique de l'Association International
de Sémiotique – IASS/AIS, à se réaliser du 9 au 13 septembre du 2019 à Buenos Aires, Argentine.
Organisation et Format des Présentations
Les exposés dureront 20 minutes et 10 minutes seront réservées par exposé pour les questions et commentaires (entrecoupés ou à la fin de la série d'exposés). Chaque session aura une durée d'une heure et demie et se composera d'un maximum de trois exposés.
La composition des sessions sera établie par le Comité Scientifique et par le Comité Organisateur à partir des thèmes proposés. Tous les sessions rassembleront des exposés avec un critère d'affinité thématique et chercheront, dans la mesure du possible, à programmer successivement les sessions qui partagent un sujet ou un domaine d'intérêt commun, à générer une série d'exposés et à organiser les débats dans la même journée et le même espace physique.
Les éxpositeurs sont invités à appuyer la présentation orale avec une présentation visuelle dans une langue différente de celle utilisée par l'éxpositeur, à choisir entre l'espagnol ou l'anglais.
Chaque jour (le matin et l' après-midi), deux séances d'exposés semi-plénières d'une heure seront organisées avec deux orateurs principaux invités dans chacune, jusqu'à quatre tables rondes simultanées maximum.
Le format choisi pour les tables rondes et pour les semi-plénières vise à profiter du caractère international du congrès pour favoriser la rencontre et encourager le dialogue entre les participants des différents pays en fonction d'approches ou de questions communes. Nous pensons que ce format permettra de mettre en relief la production des différentes chaires universitaires et des équipes de recherche et d'encourager aussi les réseaux de contact, les projets et les publications de portée internationale. L'objectif principal du 14ème Congrès Mondial de Sémiotique est la construction d'un espace de rencontre et d'échange entre chercheurs et spécialistes de ce champ.
Ceux qui souhaitent partager la table-ronde avec d'autres chercheurs sous un sous-thème spécifique sont invités à nous renseigner sur cette proposition dans la présentation de chaque résumé. Le comité d'organisation va considérer cette proposition. Dans ces cas, la table-ronde sera identifié avec ce sous-thème dans le programme.
Ceux qui souhaitent proposer des présentations ou de lancement de publications sont priés de soumettre ces initiatives à l'adresse électronique du Congrès depuis du 30 mars jusqu'au 30 d'avril.
Autres informations d'intérêt:
Weltkongress der IASS/AIS
organisiert von der Argentinischen Vereinigung für Semiotik
(Asociación Argentina de Semiótica -AAS-)
und der Nationalen Universität der Künste
(Universidad Nacional de las Artes -UNA-)
9.-13. September 2019
Buenos Aires, Argentinien
3. Kommunikation Aufbau und Format der Beitrags
Wir erweitern die Informationen über die Organisation der Runde Tische, Daten, Kongressgebühren und Zusammensetzung des Wissenschaftlichen Komitees des 14. Weltkongresses für Semiotik der International Semiotics Association – IASS/AIS, der vom 9. bis 13. September 2019 in Buenos Aires, Argentinien, stattfindet.
Aufbau und Format der Beitrags
Die Präsentationen dauern 20 Minuten und 10 Minuten werden pro Präsentation für Fragen und Kommentare reserviert (eingestreut oder am Ende der Ausstellungsreihe). Jede Session wird anderthalb Stunden lang sein und wird bis zu drei Präsentationen umfassen.
Die Zusammensetzung der Sessions wird vom dem Wissenschaftlichen Komitee  und von dem Organisationskomitee aus den vorgeschlagenen Themen festgelegt. Alle Sitzungen werden Vorträge mit dem gleichen Kriterium der thematischen Affinität veranstaltet. Wann immer möglich, das Organisationskomitee wird versuchen, die Sitzungen, die ein Thema oder ein gemeinsames Interessengebiet teilen, nacheinander zu programmieren um eine integrierte Sequenz von Vorträge zu erzeugen und die Debatten in demselben Tag und physischer Raum zu veranstalten versuchen.
Redner und Referenten werden gebeten, die mündliche Präsentation mit einer visuellen Präsentation in einer anderen Sprache als der des Sprechers zu begleiten. Am besten zwischen Spanisch oder Englisch wählen.
Jeden Tag wird es zwei Runden von Halbplenumausstellungen von einer Stunde Ausstellungsdauer mit jeweils zwei eingeladenen Referenten geben. Es wird bis zu vier gleichzeitigen Sitzungengeben.
Das Format, das für die Sessions und die Halbplenumausstellungendefiniert wurde, versucht, den internationalen Charakter des Kongresses zu nutzen, um das Treffen zu begünstigen und den Dialog zwischen Ausstellern verschiedener Länder in Abhängigkeit von problematischen oder gemeinsamen Ansätzen anzuregen. Wir sind uns bewusst, dass dieses Format die Produktion der verschiedenen Lehrstühle und Forschungs-teams zu zeigen ermöglichen wird, und auch Kontaktnetzwerke, Projekte und Veröffentlichungen von internationaler Bedeutung fördern kann. Das Hauptziel des 14. Weltkongresses der Semiotik ist der Aufbau eines Treffpunkts und Austauschs zwischen Forschern und Spezialisten im dieser Bereich der Forschung.
Falls Sie Ihre Vorlesung im Rahmen einer Gruppenpräsentation zu einem spezifischen Thema halten möchten, bitten wir Sie, uns hiervon bei der Einreichung des Abstraktes in Kenntnis zu setzen. Ihr Vorschlag wird von dem Organisationskomitee berücksichtigt werden.
Vorschläge für Publikationen Präsentationen sind vom 30.03.2019 bis 30.04.2019 per E-Mail willkommen.
Weitere interessante Informationen
14º Congresso Mundial de Semiótica
da International Association for Semiotics Studies/
Association Internationale de Sémiotique -IASS/AIS-
organizado pela Asociación Argentina de Semiótica -AAS-
e a Universidad Nacional de las Artes -UNA-
Buenos Aires, de 9 a 13 de setembro de 2019
3ª Convocatória – Organização e Formato de Apresentações
Fornecemos mais informações sobre a organização das mesas-redondas, datas, taxas de inscrição e composição do Comitê Científico do 14º Congresso Mundial de Semiótica da Associação Internacional de Semiótica – IASS/AIS, a realizar-se de 9 a 13 de setembro de 2019 em Buenos
Aires, Argentina..
Organização e Formato das Apresentações
As apresentações dos trabalhos terão uma duração de 20 minutos e se reservarão 10 minutos por trabalho para perguntas e comentários (intercalados ou no final da série de apresentações). Cada sessão terá uma hora e meia de duração e incluirá até três trabalhos.
A conformação das mesas-redondas será definida pelo Comitê Científico e pelo Comitê de Organização a partir dos temas propostos. Todas as mesas-redondas reunirão as apresentações com um critério de afinidade temática e, sempre que for possível, se procurará programar as mesas que compartilhem uma temática ou um campo de interesse comum, para gerar uma série de apresentações e organizar os debates em uma mesma jornada e espaço físico.
Solicita-se aos apresentadores o complemento de uma apresentação visual em outra língua diferente da que for utilizado pelo apresentador, pode-se escolher entre o espanhol ou o inglês.
Diariamente haverá dois períodos de apresentações semi-plenárias de uma hora de duração com dois oradores principais convidados em cada uma, com até quatro mesas-redondas simultâneas.
O formato escolhido para as mesas redondas e para as apresentações semi-plenárias procura aproveitar o caráter internacional do congresso para favorecer o encontro e estimular o diálogo entre os participantes de diferentes países em função de questões ou de abordagens comuns.
Pensamos que este formato permitirá visibilizar a produção das diferentes cátedras universitárias e de equipes de pesquisa e incentivar as redes de contato, projetos e publicações de alcance internacional. A principal meta do 14° Congresso Mundial de Semiótica é a construção de um espaço de encontro e de intercâmbio entre os pesquisadores e especialistas no campo.
A aqueles que desejem compartilhar a mesa redonda com outros pesquisadores sob um subtema específico, solicita-se que informem da proposta no envio de cada resumo. A proposta será atendida pelo Comitê Organizador. Nesse caso, se identificará a mesa com esse subtema no programa.
Aqueles que desejam apresentar propostas de lançamentos de publicações, devem apresentar essa iniciativa ao endereço eletrônico do Congresso, do 30 de março até 30 de abril.
Outras informações de interesse
Comité Organizador/ Organizing Committee/ Comité Organisateur/ Organisationsausschuss/ Comite Organizador
Asociación Argentina de Semiótica (AAS): María Teresa Dalmasso, Oscar Traversa, Claudio Guerri, Oscar Steimberg, Gastón Cingolani
Universidad Nacional de las Artes (UNA): Marita Soto, Sergio Ramos, Federico Baeza
Comité Ejecutivo/ Executive Committee/ Comité Exécutif/ Exekutivausschuss/ Comitê executivo 
José Luis Caivano, Beatriz Sznaider, Pablo Porto López, Manuel Libenson, Carolina Rochi, Carina Perticone, Natalia Laube, Damián del Valle, Ruth Dekiermacher
Bureau IASS-AIS 2014-2019
President
Paul Cobley (United Kingdom)
Secretary general
Kristian Bankov (Bulgaria)
Vice-Presidents
Anne Hénault (France), José Enrique Finol (Venezuela), Kim Sung-do (Korea), Mohamed Bernoussi (Morocco), Susan Petrilli (Australia/Italia)
Vice-secretary general
Priscila Borges (Brazil)
Treasurier
Daina Teters (Latvia) Jie Zhang (China)
Vice- Treasurier
Stephanie Walsh Matthews (Canada)
Honorary Presidents
Eero Tarasti (Finland), Umberto Eco (Italy)*, Jerzy Pelc (Poland)*, Roland Posner (Germany), Cesare Segre (Italy)*, Gloria Withalm (Austria)
* In memoriam