Peirce on History, Science, and Realism (February 5)
Seize this chance… and you will soon be on your way to retracing the genius of the pathfinder of semiotics.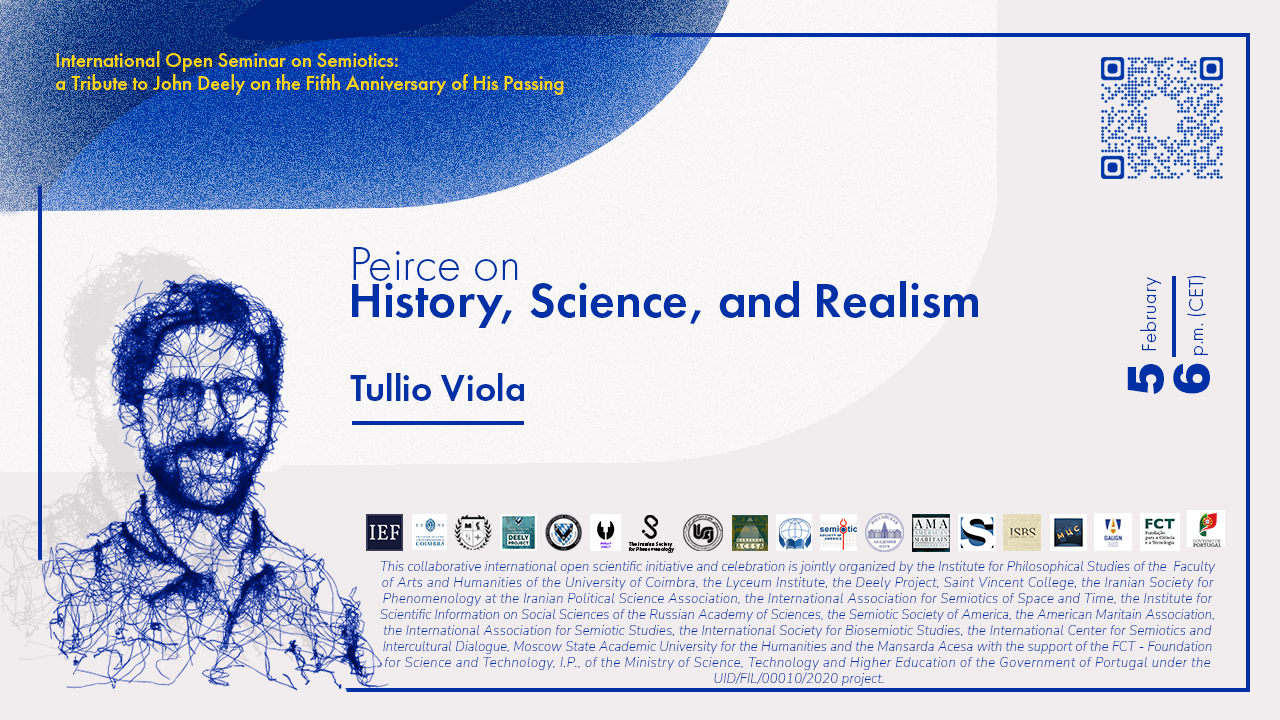 February 5, 2022 / 6pm (CET), 5pm (UTC)
Lecturer: Tullio Viola
Commentator: Donna E. West
Chair: William Passarini
Meeting room: https://zoom.us/j/99695808180
Stream link: https://youtu.be/YuMTnDgDtL0
Tullio Viola is an assistant professor in Philosophy of art and culture at Maastricht University in the Netherlands. He has a doctorate in philosophy from the Humboldt University in Berlin, and before joining Maastricht University he held post-doc positions in Berlin and Erfurt. He has published mainly on Peirce, north-American pragmatism, and its links to European philosophy. His book, Peirce on the Uses of History, has come out with De Gruyter in 2020.
Donna West (PhD, Cornell University) is Professor of Linguistics at the State University of New York, Cortland. For nearly forty years she has presented and published internationally (70 plus articles/chapters) on Peirce's semiotic. She currently serves on the Board of the International Association for Cognitive Semiotics, as well as on several editorial boards. Her 2013 book, Deictic Imaginings: Semiosis at Work and at Play, investigates the ontogeny of indexical signs. Her 2016 edited volume on Peirce's concept of habit offers a fresh, global perspective (scholars from twelve nations). She is likewise editing the "Mathematics and Cognition" section for the Handbook on Cognitive Mathematics (2021)—her own contribution explores the formidable role of chunking in abductive rationality. Following the 2021 publication of two guest-edited journal issues on Peirce and consciousness (Cognitive Semiotics, Semiotica), her forthcoming book presents retrospective narratives as the scaffold toward Peirce's retroductive logic. Click here to download the curriculum vitae of Donna E. West.
Homepage: https://www.uc.pt/fluc/uidief/io2s
Auditorium: https://www.uc.pt/fluc/uidief/io2s/auditorium
This event is part of the activities of the 2022 International Open Seminar on Semiotics: a Tribute to John Deely on the Fifth Anniversary of His Passing, cooperatively organized by the Institute for Philosophical Studies of the Faculty of Arts and Humanities of the University of Coimbra, the Lyceum Institute, the Deely Project, Saint Vincent College, the Iranian Society for Phenomenology at the Iranian Political Science Association, the International Association for Semiotics of Space and Time, the Institute for Scientific Information on Social Sciences of the Russian Academy of Sciences, the Semiotic Society of America, the American Maritain Association, the International Association for Semiotic Studies, the International Society for Biosemiotic Studies, the International Center for Semiotics and Intercultural Dialogue, Moscow State Academic University for the Humanities and the Mansarda Acesa with the support of the FCT – Foundation for Science and Technology, I.P., of the Ministry of Science, Technology and Higher Education of the Government of Portugal under the UID/FIL/00010/2020 project.
Image was designed by Zahra Soltani.