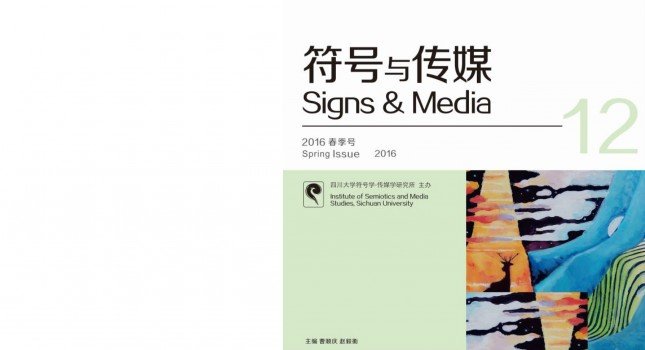 New Issue of Signs & Media (Spring Issue, 2016)
We are glad to announce the publication of the new issue of Signs & Media, a bilingual (English-Chinese), peer-reviewed semiotic journal. Please feel free to download the PDF Version of Signs & Media:  http://www.semiotics.net.cn/isms
Editor's Notes (Spring Issue of Signs & Media, 2016)
Revised since the eighth issue, Signs & Media has attracted the attention of semioticians from England, America, Italy, Finland, Sweden and Singapore. With the joint efforts of domestic and international semioticians, dozens of English papers have been published, and the communication space for Chinese semiotics has been expanded. The section entitled 'General Narratology' in the last issue received a great deal of positive feedback from scholars with a focus on the narrative concerns of contemporary culture. To deepen this discussion, Paul Cobley and Zhao Yiheng co-host a section entitled 'Semiotic Narratology' in which they invite three semioticians from Korea, Russia and Estonia to respectively study the self, identity and their relationship with narration in different cultures.
In introducing international semiotic theory, we insist on promoting and developing Chinese traditional culture and classical literary theory. In the section 'Semiotic Studies of Zhouyi', four semioticians, Zhu Dong, Su Zhi, Wang Junhua and Wang Xiaonong, integrate contemporary and traditional Chinese semiotic thinking to open up a new field for semiotic exploration.
As always, contributors to the sections entitled 'Semiotics of Communication' and 'Theory and Application' devote themselves to widening the research vision, in this case from pictorial rhetoric to sports text, news narration, the cultural dimension of Chinese discourse and the secularisation of ideology. Advancing side by side, this rethinking of mature disciplines and breaking of ground in emerging fields jointly promote the prosperity and vitality of semiotics and communication.
As listeners and mediators, we keep working to record voices and expand the trajectory of all of these discussions, which is why we provide an annual report on the yearly developments in Chinese semiotics every spring. It is always so exciting to see so many new faces joining our march.
About Sings & Media
Signs & Media is a bilingual (English-Chinese), peer-reviewed semiotic journal, founded in 2008 by the Institute of Semiotics & Media Studies (ISMS), Sichuan University. Signs & Media, dedicating itself to the interdisciplinary research on semiotics and media studies, has since published more than 200 professional papers by scholars from all around the world.
Under the editorship of Professor Henry Yiheng Zhao, Signs & Media endeavors to systematically expand semiotics to all fields of human sciences, covering, notably, , communication and media studies, cultural studies, art and literature, as well as narratology, stylistics, discourse analysis, cognitive science in the semiotic perspective, and, in particular, reinterpretations of Chinese traditional semiotic heritage.
Signs & Media welcomes contributions on any topics, so long as they, in a way, help illuminate the theoretical foundation and widen the sphere of applicability of semiotics.
Email address: semiotics_media@163.com
Phone: +86-28-8541-2121
Fax: +86-28-8541-2710
Website: www.semiotics.net.cn/isms
Postal Address:
Institute of Semiotics & Media Studies,
Sichuan University,
No.29 Wanjiang Road,
Chengdu, 610064
China