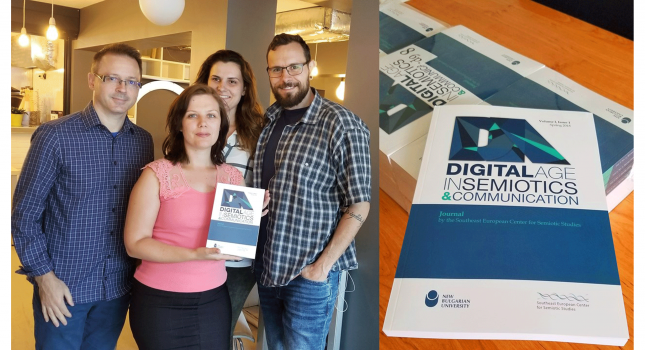 New issue: Digital Age in Semiotics & Communication, Volume 1, Issue 1, Spring 2018
New issue: Digital Age in Semiotics & Communication, Volume 1, Issue 1, Spring 2018
Digital Age in Semiotics & Communication is a journal from the Southeast European Center for Semiotic Studies at the New Bulgarian University. It explores the new forms of knowledge, social and linguistic interaction, and cultural phenomena generated by the advent of the Internet.
The purpose of the journal is to provide a collaborative work field for scholars interested in researching new phenomena in the dynamic digital world. Our main purpose is to build a scientific bridge between the fields of semiotics, communications, social sciences and the problems of the digital era. We believe that our collaborations can raise the level of understanding for modern digital phenomena, providing both a solid theoretical framework and profound applied research.
The pilot issue summarizes the whole research program of the Center and the journal in particular. It is open to various problems concerning developments in digital culture and phenomena. We are interested in working with scholars from different research and applied fields, such as semiotics (both applied and theoretical), communication studies, marketing and advertising, linguistics and literary studies, anthropology and ethnography, cognitive science and psychology, and computer science.
Download the whole book                          To the online table of contents
Table of contents
From Text to Interaction (intro)
Kristian Bankov
PART I Knowledge and Identity in Digital Age
Personalization Algorithms – Limiting the Scope of Discovery? How Algorithms Force out Serendipity
Mihail Vuzharov
The Imagined Community Revisited through a Mock-Nationalistic YouTube Web Series
Fernando Andacht
A Shift from "Me" to "We" in Social Media
Viktorija Lankauskaitė, Vilmantė Liubinienė
PART II Aesthetic and Interactive Practices in Digital Culture
Postcard from Istanbul: Digital Reconstruction of the City as Memory in Tasos Boulmetis's Polítiki Kouzína / A Touch of Spice / Baharatin Tadi
Giorgos Dimitriadis
'It's over 9000.' Apeiron Narrative Configurations in Contemporary Mediascape
Vincenzo Idone Cassone
Constructing the Corporate Instagram Discourse – a Critical Visual Discourse Approach
Søren Vigild Poulsen
Formalism and Digital Research of Literature
Marek Debnár
Enchanted Object: Indian Sari, Negotiating the Online and the Offline Space
Seema Khanwalkar
PART III Digital Age in Corporate Communication
Engaging Brand Communication in Facebook – a Typology of the Brand Page Users
Yagodina Kartunova
Digital Culture of the Regulated Industries. Focus: Tobacco Sector
Sevim Asimova
PART IV Digital Age form a philosophical perspective
The Effeteness of Social Media
Reni Yankova
Theme of the Issue 2: Love and Sex in the Digital Age: a Semiotic Perspective
For more information and submission of papers: