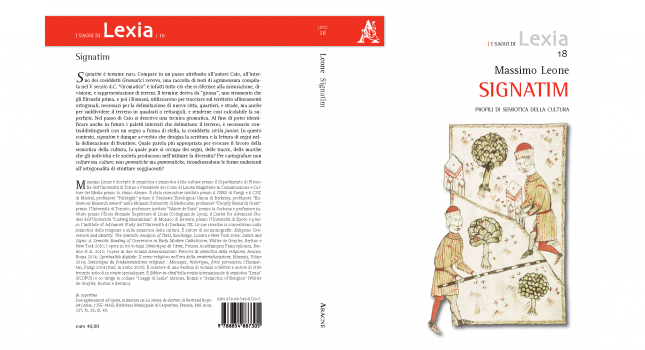 New Book: Signatim: Profili di semiotica della cultura, Massimo Leone
Massimo Leone 2015 – Signatim – Presentation PDF
Signatim
Signatim è termine raro. Compare in un passo attribuito all'autore Caio, all'interno dei cosiddetti Gromatici veteres, una raccolta di testi di agrimensura compilata nel V secolo d.C. "Gromatico" è infatti tutto ciò che si riferisce alla misurazione, divisione,
e rappresentazione di terreni. Il termine deriva da "groma", uno strumento che gli Etruschi prima, e poi i Romani, utilizzarono per tracciare sul territorio allineamenti ortogonali, necessari per la delimitazione di nuove città, quartieri, e strade, ma anche per suddividere il terreno in quadrati o rettangoli, e renderne così calcolabile la superficie. Nel passo di Caio si descrive una tecnica gromatica. Al fine di poter identificare anche in futuro i paletti interrati che delimitano il terreno, è necessario contraddistinguerli con un segno a forma di stella, la cosiddetta stella junior. In questo contesto, signatim è dunque avverbio che designa la scrittura e la lettura di segni nella delineazione di frontiere. Quale parola più appropriata per evocare il lavoro della semiotica della cultura, la quale pure si occupa dei segni, delle tracce, delle marche che gli individui e le società producono nell'istituire la diversità? Per cartografare non colture ma culture, non gromatiche ma grammatiche, riconducendone le forme esuberanti all'ortogonalità di strutture soggiacenti?
Massimo Leone è docente di semiotica e semiotica della cultura presso il Dipartimento di Filosofia dell'Università di Torino e Presidente del Corso di Laurea Magistrale in Comunicazione e Culture dei Media presso lo stesso Ateneo. È stato ricercatore invitato presso il CNRS di Parigi e il CSIC di Madrid, professore "Fulbright" presso il Graduate Theological Union di Berkeley, professore "Endeavour Research Award" nella Monash University di Melbourne, professore "Faculty Research Grant" presso l'Università di Toronto, professore invitato "Mairie de Paris" presso la Sorbona e professore invitato presso l'École Normale Supérieure di Lione (Collegium de Lyon), il Center for Advanced Studies dell'Università "Ludwig Maximilian" di Monaco di Baviera, presso l'Università di Kyoto e presso l'Institute of Advanced Study dell'Università di Durham, UK. Le sue ricerche si concentrano sulla semiotica della religione e sulla semiotica della cultura. È autore di sei monografie: Religious Conversion and Identity: The Semiotic Analysis of Texts, Routledge, Londra e New York 2004; Saints and Signs: A Semiotic Reading of Conversion in Early Modern Catholicism, Walter de Gruyter, Berlino e New York 2010; l'opera in tre volumi Sémiotique de l'âme, Presses Académiques Francophones, Berlino
et al. 2012; l'opera in due volumi Annunciazioni: Percorsi di semiotica della religione, Aracne, Roma 2014; Spiritualità digitale: Il senso religioso nell'era della smaterializzazione, Mimesis, Udine 2014; Sémiotique du fondamentalisme religieux : Messages, rhétorique, force persuasive, l'Harmattan, Parigi 2014 (trad. in arabo 2015). È curatore di una ventina di volumi collettivi e autore di oltre trecento articoli su riviste specializzate. È Editor-in-chief della rivista internazionale di semiotica "Lexia" (SCOPUS) e co-dirige le collane "I saggi di Lexia" (Aracne, Roma) e "Semiotics of Religion" (Walter de Gruyter, Boston e Berlino).