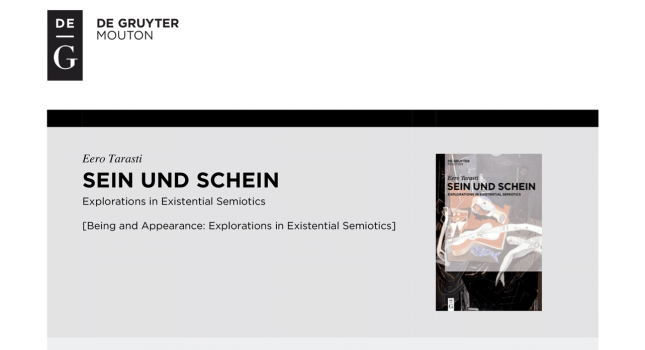 New book: Sein und Schein : Explorations in Existential Semiotics
Eero Tarasti
SEIN UND SCHEIN
Explorations in Existential Semiotics
[Being and Appearance: Explorations in Existential Semiotics]
Existential semiotics is a new paradigm in the studies of signs, signification and communication. This book develops its theory further starting from the continental philosophy (Kant, Hegel, Jaspers, Heidegger, Arendt, Sartre) on one hand, yet remaining also faithful to the tradition of the European semiotics, particularly the Paris school.
From the notions of being, doing and appearing the study applies them to crucial social problems of the contemporary world, and moreover to various so-called 'lesser arts' like performance andgastronomy. It also introduces some precursors
of the approach. The book represents what can be called neosemiotics, the search for new
theories and fields of the discipline.
Eero Tarasti, University of Helsinki, Finland.