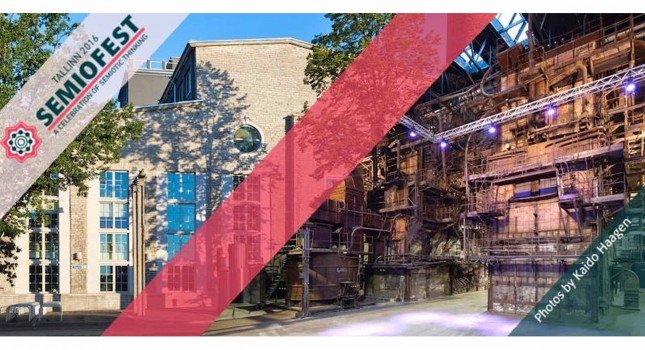 CFP: Semiofest Tallinn 2016
Semiofest Tallinn 2016 is waiting for paper proposals until Feb 1, 2016
Semiofest Tallinn venue is a reminder of powerful transitions and the spirit of Tarkovsky's "Stalker"
Semiofest Tallinn will open registration on Jan 27, 2016.
Dear friends of Semiofest,
Please do not forget to post your proposal for Semiofest Tallinn 2016,cfp@semiofest.com. We expect you to submit your abstracts by Feb 1, 2016. We invite you to come and share your experiences using semiotics to provoke and foster innovation.
We invite you to present your experience and vision of semiotics as a tool of innovation: Reflect your experiences of innovation working with companies, governments or communities; share the tools and models of innovation that you have applied in your work. How can semiotics be applied semiotics to provide insights in any step of the innovation cycle, from mapping out the needs and opportunities for innovation to embedding new products and services in new markets across sectors?
We also invite you to explore the culture of innovation within semiotics: How can applied semiotic thinking bring about change in semiotics? What new perspectives, methods, and insights originate from practical applications? What are the emergent trends and new fields for applied semiotic research? What is your vision of the future of applied semiotics? We also invite you to make explicit the innovative aspect of the our own everyday work.
Think of (but not exclusively!):
Fresh cultural insight and foresight
Methodology and new approaches
Media and creative industries
IT and startups
Design-lead problem solving
Strategic planning
Brand innovation
Social innovation and social enterprise
Semiofest venue is a reminder of powerful transitions and the spirit of Tarkovsky's "Stalker"
Semiofest Tallinn will be held in a Kultuurikatel (Culture Cauldron) culture hub. Kultuurikatel is a perfect place for Semiofest Tallinn dedicated to a culture of innovation; it not only illustrates but truly embodies the many transitions that our society has been gone through within recent decades as well as the transformative power of those transitions.
Kultuurikatel (Culture Cauldron) is a former boiler house at the seaside in the middle of historical industrial landscape that many can recognize as a Zone in Andrei Tarkovski's "Stalker" (1979). Though Kultuurikatel has been newly renovated and now serves as a creativity hub hosting, among others, Estonian Centre of Architecture and Estonian Design Centre, some of the old landscape has been preserved and the windows of the Cheese Hall where we hold our sessions, is overlooking the "wild garden", where the scenes of "Stalker" were shot.
For those of you who want to revisit Tarkovski's psychological landscapes again, "Stalker" is also available online.
Location: Põhja pst 27a, Tallinn, 10145. Find it on Google Maps.
It is just a 10 minutes walk from the very center of the city and a 5 minutes walk from the walls of the old town. It is also easy to access by a public transport.
Semiofest Tallinn registration will open on Jan 27
We'll open registration on Jan 27, be sure to be among the first ones: there's a special offer for "early birds" (for up to ten people or until Feb 14). Be sure to follow our updates on Facebook.
Let's create together an atmosphere of sharing and learning, June 1-4, 2016, Kultuurikatel, Tallinn, Estonia.