2a. Scuola Estiva di Metodologia Semiotica "Paolo Fabbri": "Retoriche della marca: branding e significazione" (3-7 luglio, 2023 / Erice, Trapani)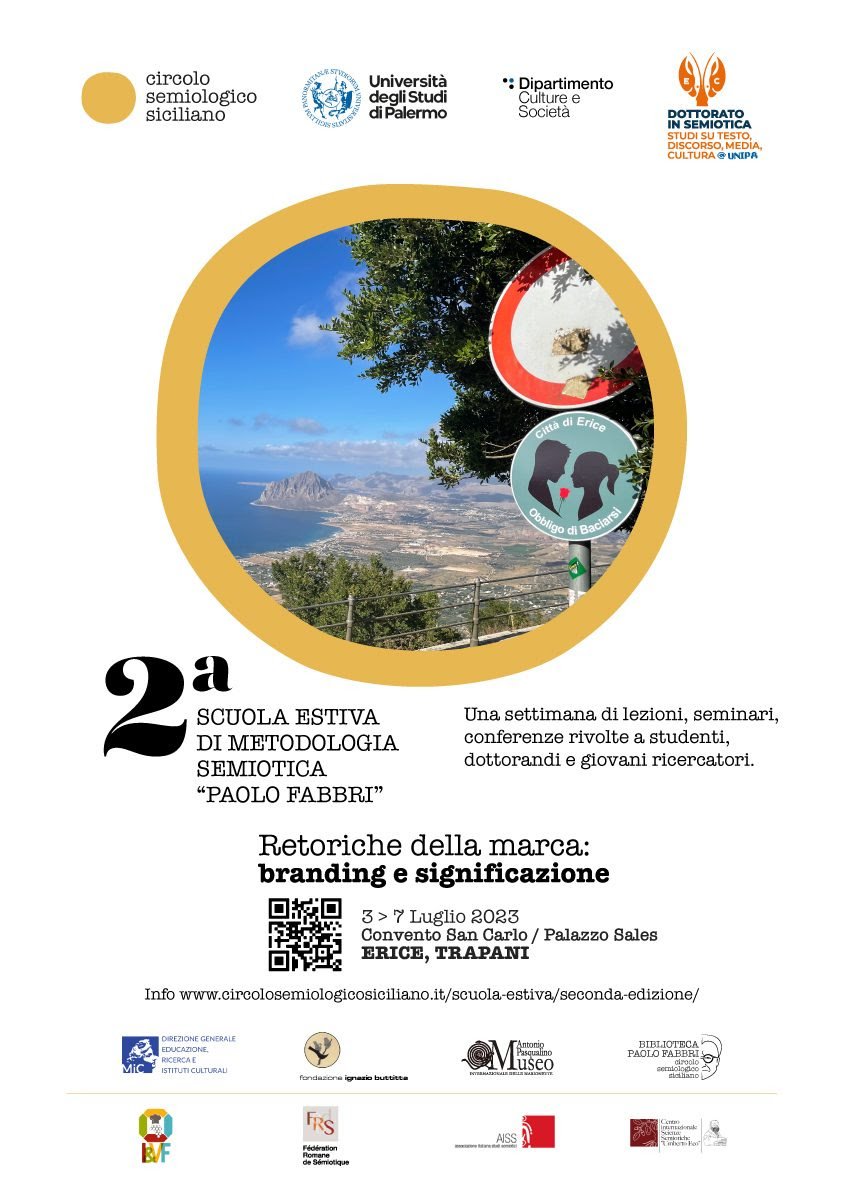 – – IT – –
Care amiche, cari amici,
il Circolo semiologico siciliano presenta la seconda edizione della Scuola estiva di metodologia semiotica Paolo Fabbri, che si terrà a Erice (TP), dal 3 al 7 luglio 2023, presso Palazzo Sales. Il tema di questa seconda edizione è Retoriche della marca: branding e significazione.
La Scuola si rivolge a laureandi, dottorandi e ricercatori in semiotica e discipline del testo. L'obiettivo degli incontri è fornire strumenti per comprendere e analizzare le strategie della comunicazione di marca e le sue tendenze attuali. Ogni giornata sarà strutturata in corsi metodologici, laboratori di analisi e conferenze di professionisti del settore.
Per iscriversi i partecipanti dovranno compilare questo modulo. L'iscrizione è gratuita. Inoltre, grazie al sostegno del Museo Internazionale delle Marionette "Antonio Pasqualino", è stato pubblicato il Bando per l'assegnazione di n. 10borse di studio a copertura delle spese di alloggio, colazione e pranzo per l'intera durata della Scuola. Coloro che non risultassero idonei potranno comunque partecipare alle attività a proprie spese.
Grazie dell'interesse e della collaborazione nella diffusione.
In allegato la locandina.

– – FR – –
Chers et chères amis,
le Circolo Semiologico Siciliano présente la deuxième édition de l'école d'été « Paolo Fabbri » de méthodologie sémiotique qui se tiendra à Erice (TP), du 3 au 7 juillet 2023, au couvent San Carlo. Le thème de cette deuxième édition est Rhétorique de la marque : branding et signification.
L'École s'adresse aux étudiant.es, doctorant.es et chercheur.es en sémiotique et en science de l'information et de la communication. L'objectif de ces rencontres est de fournir des outils permettant de comprendre et d'analyser les stratégies de communication des marques et leurs tendances actuelles. Chaque journée sera structurée en cours méthodologiques, ateliers d'analyse et en conférences données par des professionnels du monde des médias.
Pour s'inscrire, les participant.es doivent remplir ce formulaire. L'inscription est gratuite.
Nous tenons également à souligner que grâce au partenariat avec le Museo Internazionale delle Marionette "Antonio Pasqualino", un appel à candidatures a été publié pour l'attribution de 10 bourses couvrant l'hébergement, le petit-déjeuner et le déjeuner pour la durée de l'école d'été. Les personnes ne pouvant bénéficier de ces bourses pourront néanmoins participer à l'école d'été à leurs propres frais.
Nous vous remercions de votre intérêt et de votre coopération pour sa diffusion.
Vous trouverez ci-joint l'affiche.

– – ENG – –
Dear friends,
the Circolo Semiologico Siciliano presents the second edition of the "Paolo Fabbri" Summer School of Semiotic Methodology, which will be held in Erice (TP), from 3 to 7 July 2023, at the San Carlo Convent. The theme of this second edition is Brand rhetorics: strategies and signification.
The Summer School is addressed to graduate and doctoral students, and researchers in semiotics and information and communication sciences. The aim of the Summer School is to provide tools to understand and analyse brand communication strategies and current trends. Each day will be structured in methodological courses, analysis workshops and conferences given by professionals from the media world.
To enrol, participants must fill in this form. Registration is free of charge.
In addition, thanks to the partnership with the Museo Internazionale delle Marionette "Antonio Pasqualino" a call for applications has been published for the awarding of 10 scholarships covering accommodation, breakfast and lunch for the duration of the Summer School. Those who are not eligible for the scholarships will still be able to attend the Summer School at their own expense.
We thank you for your interest and cooperation in its dissemination.
Please find attached the poster.