Illusory signs as frustrated expectations: Descartes' overblown response (June 4)
Be not mislead… and you will gauge with greater acuity the excrescences found in the thinking of the founder of the Modern Age.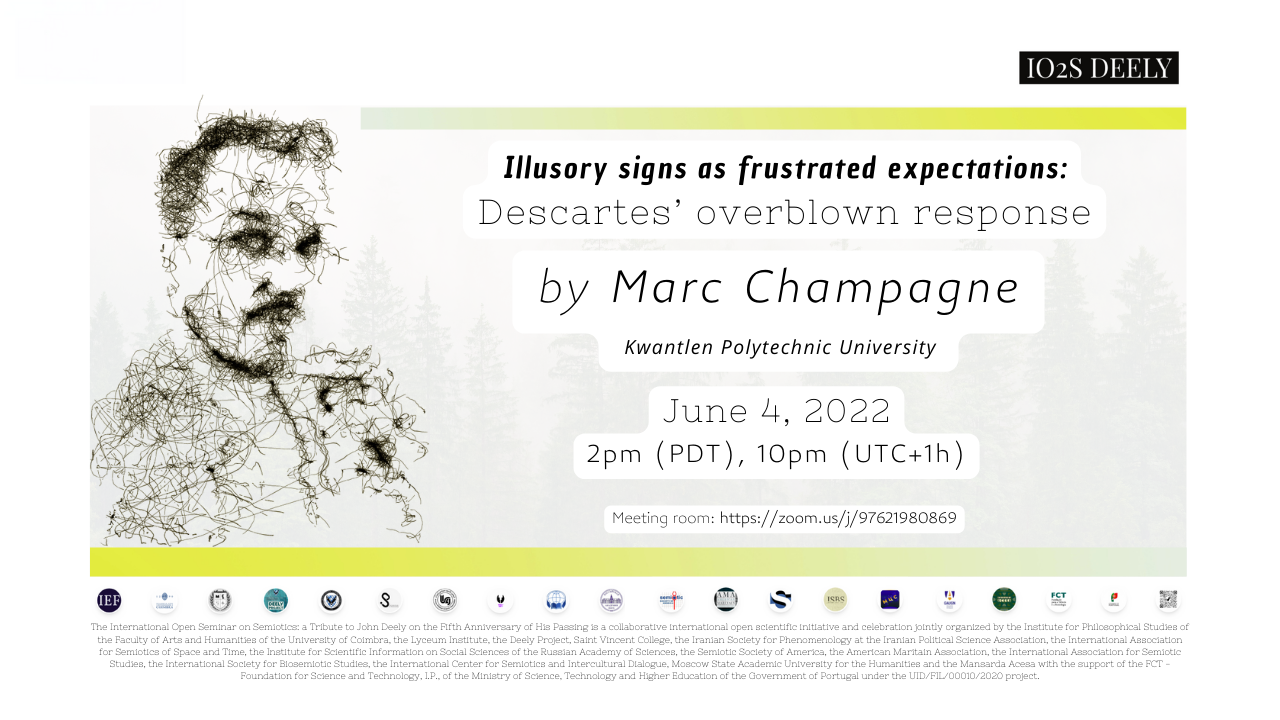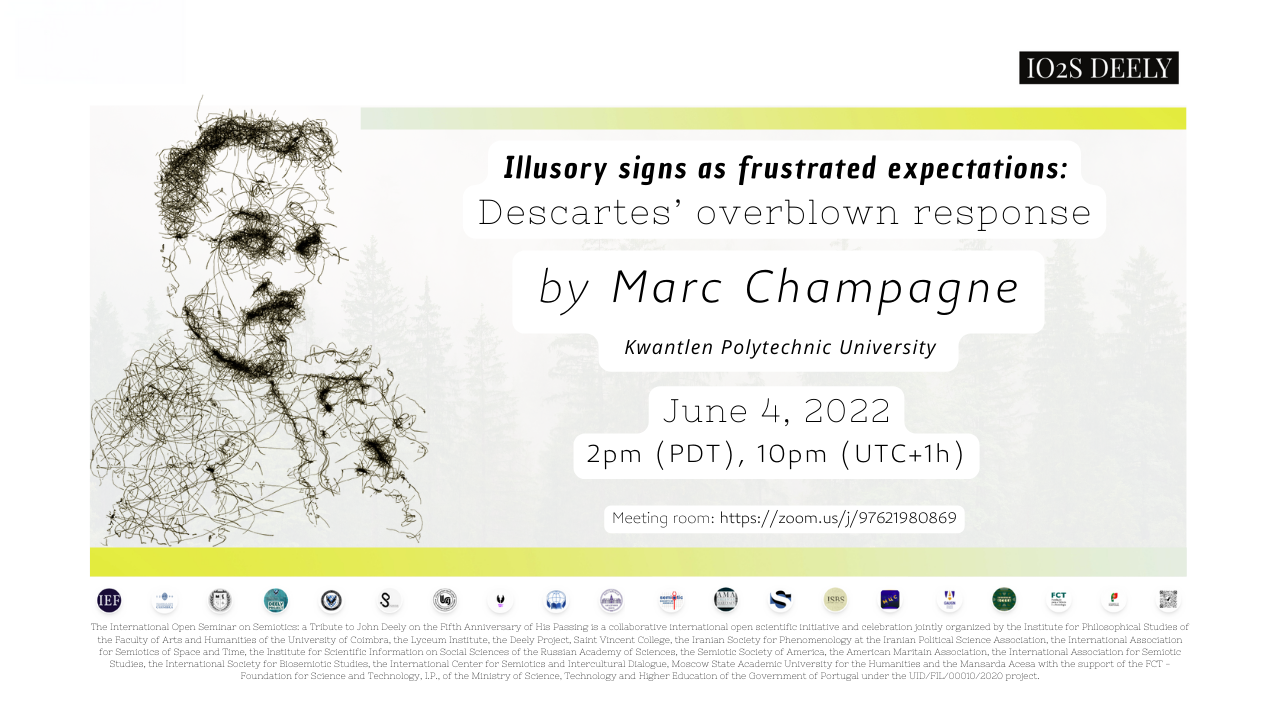 ZOOM: IO2S ⚘ Illusory signs as frustrated expectations: Descartes' overblown response
June 4, 2022 / 2pm (PDT), 10pm (UTC+1h)
This session will not be streamed on Youtube nor will it be recorded, meaning that it will be accessible only to those present in the meeting room.
Lecturer: Marc Champagne
Commentator: Alin Olteanu
Chair: William Passarini
Meeting room: https://zoom.us/j/97621980869
Dr. Marc Champagne is the Chair of the Department of Philosophy at KPU – Kwantlen Polytechnic University in Canada, where he also teaches occasional courses in the Policy Studies program. Before coming to KPU, he taught at York University and Trent University. He has a PhD in Philosophy from York University, a PhD in Semiotics from the UQAM – University of Quebec in Montreal, and did his Post-Doc at the University of Helsinki.
Olteanu holds a PhD in philosophy of education from London's University of Roehampton and had postdoctoral grants at Kaunas University of Technology and the University of Tartu, among other academic positions. Having taken a particularly semiotic approach to education, he became interested in multimodality, literacy, digitalization and multiculturalism, as topics of contemporary salience. At the moment, he is pursuing research on the social and cultural consequences of digitalization. Specifically, Olteanu is interested in understanding how digitalization can foster opportunities for sustainable development. While the extension of human societies onto the digital adds layers of representation to the construction of societies and results in new social and political challenges, digital media can also stimulate awareness of humans' embodied condition and environmental situatedness. This can inspire a non-dualist philosophy, which he explores as a pathway to rethink sustainability.
Homepage: https://www.uc.pt/fluc/uidief/act/io2s
Auditorium: https://www.uc.pt/fluc/uidief/act/io2s/auditorium
This event is part of the 2022 International Open Seminar on Semiotics: a Tribute to John Deely on the Fifth Anniversary of His Passing, cooperatively organized by the Institute for Philosophical Studies of the Faculty of Arts and Humanities of the University of Coimbra, the Lyceum Institute, the Deely Project, Saint Vincent College, the Iranian Society for Phenomenology at the Iranian Political Science Association, the International Association for Semiotics of Space and Time, the Institute for Scientific Information on Social Sciences of the Russian Academy of Sciences, the Semiotic Society of America, the American Maritain Association, the International Association for Semiotic Studies, the International Society for Biosemiotic Studies, the International Center for Semiotics and Intercultural Dialogue, Moscow State Academic University for the Humanities and the Mansarda Acesa with the support of the FCT – Foundation for Science and Technology, I.P., of the Ministry of Science, Technology and Higher Education of the Government of Portugal under the UID/FIL/00010/2020 project.
Image designed by Zahra Soltani.